By this post I will start UMG HUD tutorials series. What I would like to accomplish in this tutorial:
Display player health,
Display player armor,
It should work well on all platforms and mostly on VR,
It should be optimized for mobiles,
Let's start!
<

strong

>

This

Tutorial

has

been

created

using

Unreal

Engine

4.8.2

<

/

strong

>

.

Make

sure

you

are

working

on

the

same

version

of

the

engine

.
VR THEORY
My game will support VR controller and I need to be sure that UI will work correctly on VR. When working with UMG and VR you can't draw canvas on-screen. Currently it won't work.
What you need to do is to use Widget Component which will be rendered in scene instead of canvas. Another thing when working on UI – think how player will change buttons focus using game pad.
---
UI GRAPHICS
I've found great package with sci-fi UI graphics.
It will be used in this game. Basically there is small amount of UI packages out there and I encourage 2d graphics artists to create more! There is space for money there for you guys! 😉
You need to be creative when working with UI. As always – take your time and learn which parts of UI graphics do you have and which kind of things can be accomplished.
I'm not sure how much I will get from this pack because it isn't prepared for UMG, but we will see.
---
Creating UMG Widget
Create new User Widget named HUD_Health and open it.
Recreate my hierarchy:
After that go to Graph and add those variables:
CurrentDisplayedArmor (float),
CurrentDisplayedHealth (float),
NewArmorToDisplay (float),
NewHealthToDisplay (float),
MaxArmor (float),
MaxHealth (float),
DeltaTime (float),
isUpdatingHealthDisplay (bool),
Create new custom event named UpdateHealth with two inputs "New Armor", "New Health" – both floats.

I will use Tick to animate the progress bars. You could use function bindings for this but they will tick all the time taking the CPU.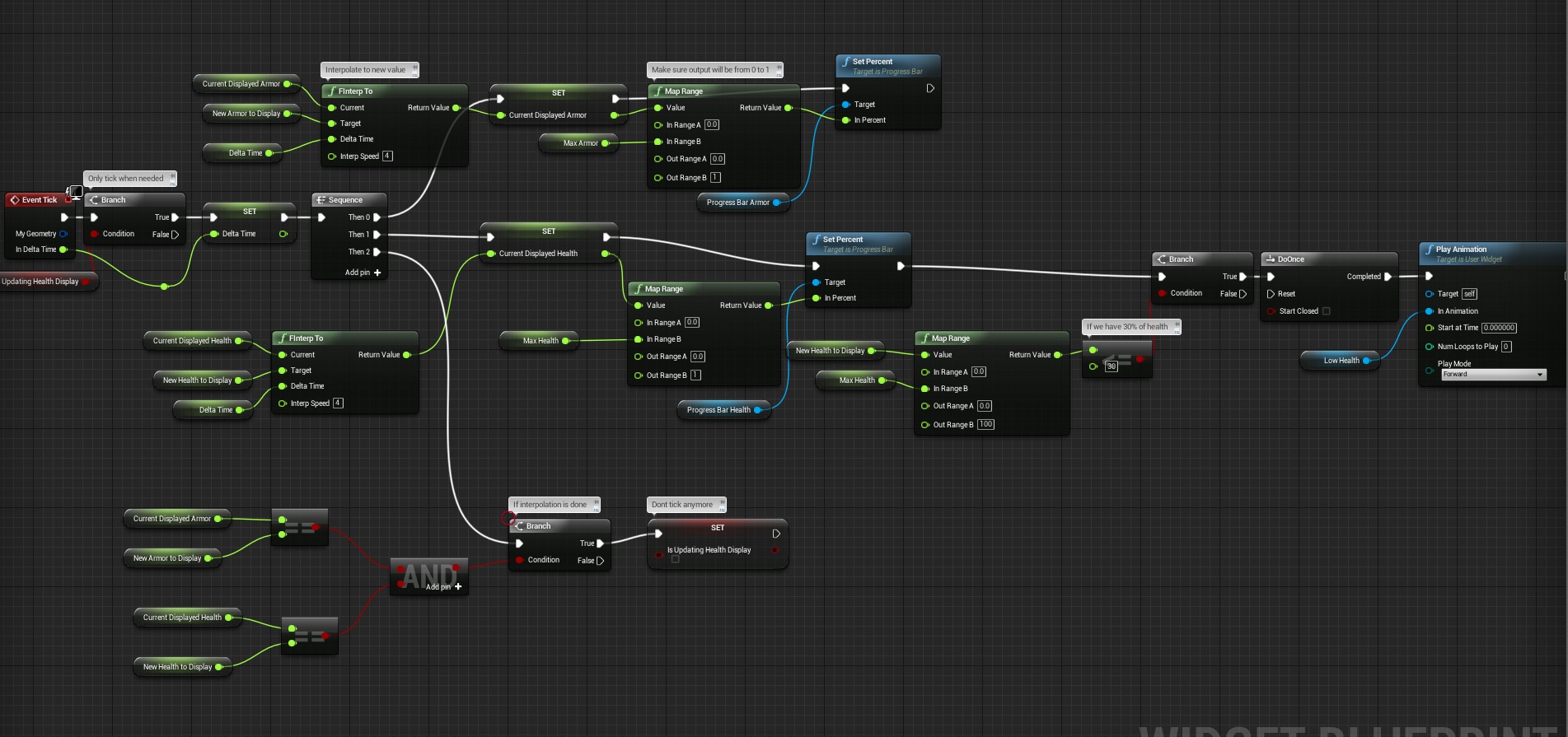 Last thing: Create new function named Set Maximum Values.

That's all in UMG.
UPDATING I_TakeDamage 
Open I_TakeDamage interface and add PlayerTakeDamage function with one float input Damage.
---
UPDATING GameplayCharacter
Open GameplayCharacter and add those variables:
CurrentHealth (float)
MaxHealth (float, default: 100)
CurrentArmor (float),
MaxArmor (float, default: 100)
isDead (bool)
Now let's add umg widget to components. Create two new components – SpringArm and Widget named HUD_Health.

Make sure SpringArm is attached to FPPMesh, and HUD_Health to SpringArm.
SpringArm properties:
Location: (X=22.266954,Y=13.166011,Z=128.156479)
Rotation: (Pitch=0.000000,Yaw=89.999954,Roll=-0.000000)
Target Arm Lenght: -33,
Use Pawn Control Rotation: True,
Enable Camera Rotation Lag: True,
Camera Rotation Lag Speed: 12,
Widget properties:
Location: (X=1.366085,Y=-0.000915,Z=-0.000003)
Rotation: (Pitch=0.000068,Yaw=89.999947,Roll=89.999947)
Scale: (X=0.030000,Y=0.031240,Z=0.074050)
Widget Class: HUD_Health – earlier created widget as you may guess,
Draw Size: 1000 x 150,
Collision Presets: NoCollision,
The point here is to position our widget near bottom of the camera. I know it isn't so easy but thanks to that it will work on VR, and you will have fancy lag animation 😉 As always – take your time to position the widget!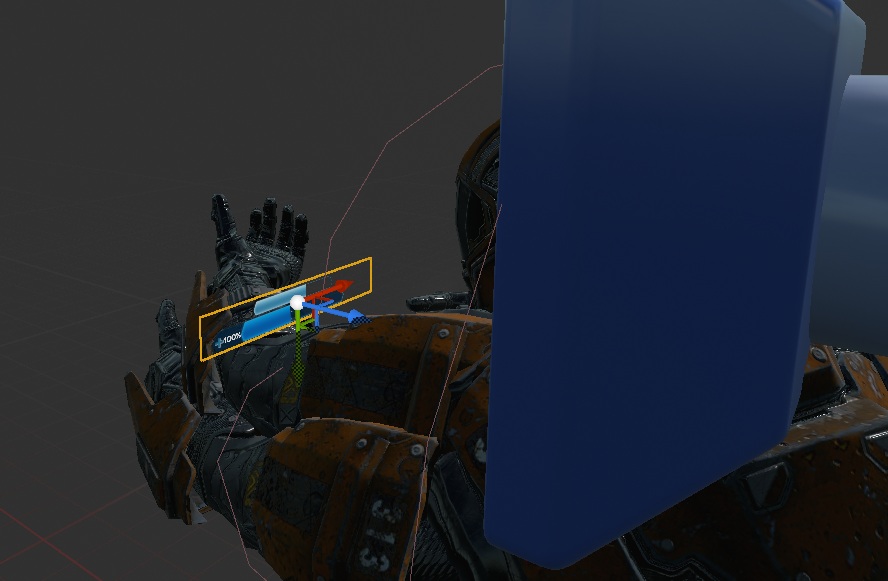 If you have the widget you need to set health and armor variables in both GameplayCharacter and the Widget. I will use BeginPlay for this.
So we let know widget about health/armor variables.
Now let's drive damage.
Implement I_TakeDamage Interface and create PlayerTakeDamage event.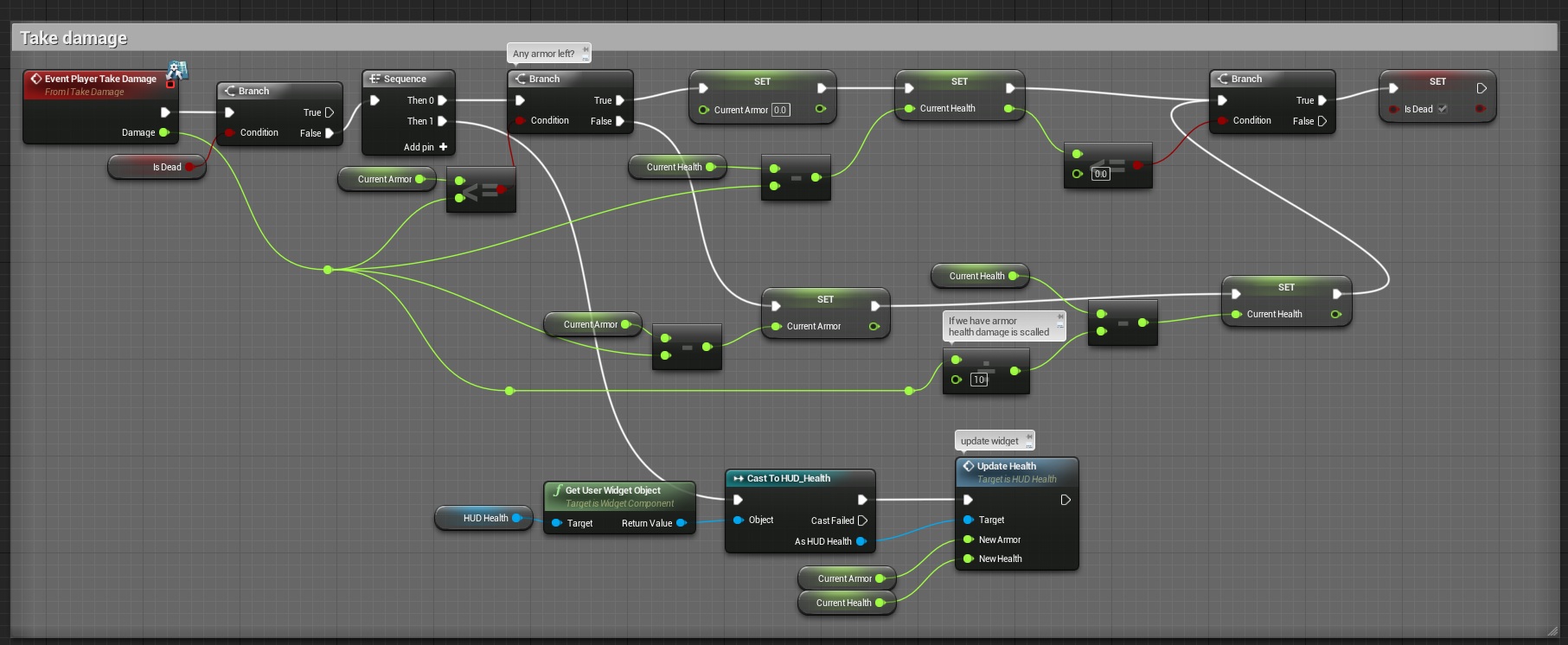 Thanks to this we have event based system connected with UMG.
---
Updating Enemy to make damage.
Last thing left is to update Enemies so they will make damage to player. Open BP_BaseEnemy and add one new variable: Damage (float, default 25)
And create new function Shoot At Player with one float input – Damage.

At this point we have only one enemy – Trooper. Open BP_Enemy_Tropper and in the end of Fire event call Shoot At Player.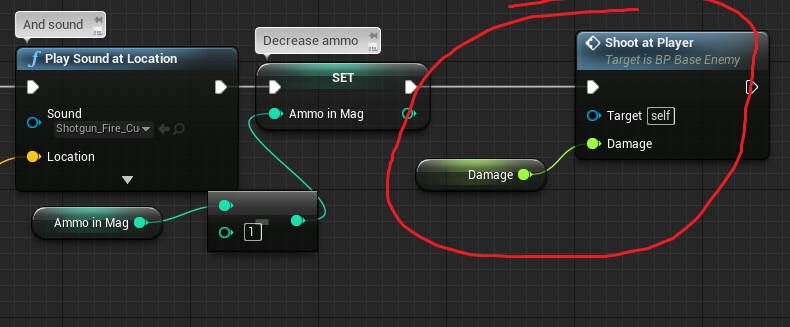 ---
FINAL EFFECT
Creating ShooterTutorial takes a lot of my free time.

If you want you can help me out! I will use your donation to buy better assets packs and you will be added to Credits /Backers page as well.

Implementing game is taking time but writing about this is taking much more effort.